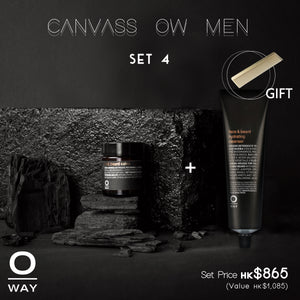 Valid from 25 May - 26 Jun 2023
優惠有效期2023年5月25日至6月26日
OW Men Set 4
 (Free delivery)
Face & Beard Hydrating Cleanser 150ml x 1
Lip & Beard Salve 30ml x 1
Verso comb x 1
男士保濕潔面乳 - 去除雜質和多餘的皮脂,透明質酸可帶來水分,幫助肌膚保持年輕和彈性,為肌膚提供清新和舒緩,對繃緊皮膚起抗氧化作用,使皮膚更光滑,去除剃鬚後殘留的物質。
2 in 1 唇部和鬍鬚滋養軟膏 - 由100%天然衍生成分組成,2合1產品,適用於鬍鬚和嘴唇 滋養和滋潤,沒有負擔。
鬍子:柔軟和馴服你的鬍鬚,使其整潔有序,滋養鬍鬚下的皮膚,帶來愉悅的新鮮感
唇:使乾裂或乾燥的嘴唇滋養,舒緩和再生,防風、防寒及乾裂,柔軟及滋潤雙唇
抗靜電鋁梳 (金色) - 珍貴的緞面金100%鋁梳。抗靜電性,輕巧精緻。 旨在解開和馴服頭髮沒有斷裂或壓力股。 也適合鬍鬚。
Face & Beard Hydrating Cleanser - Cleansing mousse for face and beard. Removes impurities and excess sebum from face and beard. Hyaluronic acid gives hydration and helps skin stay young and elastic. Provides freshness and relief to your skin. Antioxidant action for stressed skins. Makes skin look smooth. Ideal to remove shaving residues.
Lip & Beard Salve - Composed of 100% naturally derived ingredients. 2 in 1 product for beard and lips. Nourishes and moisturises without weighing down.
BEARD: Softens and tames your beard. Tames and texturises, making it neat and orderly. Nourishes the skin under your beard. Gives a pleasant sensation of freshness.
LIPS: Nourishes, soothes and regenerates chapped or dry lips. Protects from wind and col. For soft, hydrated lips.
Verso Comb - Precious satin gold 100% aluminium comb. Antistatic, light and finely crafted. Designed to disentangle and tame hair without breaking or stressing strands. Also ideal for beards.