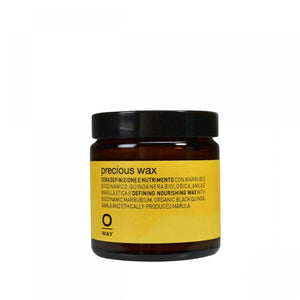 Defining nourishing wax. Soft look flexible-hold modeling paste.

Action
Extreme shine, extra definition of sections, texture and nourishment. Ideal for destructured or tousled shapes.

How to use the product
Warm in the palm of the hand a small amount of PRECIOUS WAX to soften its texture. Apply to dry hair, modelling with your fingers. Working lock by lock.

Tips
• Its natural formula is ideal to nourish also lips and hands.
• When mixed with BOHO POMADE and applied on dry hair, it improves the shine and softness of the hair and gives a supple look.

Active ingredients
Biodynamic marrubium - Reinforces the structure of the hair, boosting natural defenses against ultra-violet radiation.
Organic black quinoa - Rich in high-quality vegetable proteins, it nourishes and protects the hair fiber.
AMLA - Gives shine to the hair, nourishes and invigorates.
Ethically-produced marula -With restorative, protective and hydrating properties.

Does not contain
PARABEN / PETROLATUM / PEGS, PG & BBG / SYNTHETIC FRAGRANCE / ARTIFICIAL COLORANTS / ALCOHOL

HOLD
0.0

SHINE
3.0

Size
50 ml - 100 ml
An Important Note: Ingredients may change. For the most current ingredient list, please check your packaging. Any slight variation in the aspect of the product is due to the natural raw materials in the formula and does not affect the quality.
This Disclaimer has been translated into Chinese. If there is any inconsistency or ambiguity between the English version and the Chinese version, the English version shall prevail