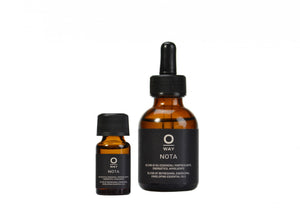 Oway's NOTA pure essential oil combines the liveliness of citrus fruits with fresh fennel and warm, welcoming vanilla. A refreshing, enlivening blend of pure essential oils perfect for creating a friendly, welcoming environment.

Action
Naturally boosts the mood of your salon's staff and clientele
Packaged in protective amber glass to preserve essential oil integrity
Helps salons standout with a truly unique, unforgettable signature scent
Pure, high quality formula made with only steam-distilled biodynamic botanicals

How to use the product
Add 1 drop of NOTA essential oil for every 3.3oz or 100ml of water.

Active ingredients
Fennel Essential Oil - supports a healthy respiratory and nervous system, while boosting the body's immune system.
Orange Peel Essential Oil - has an energizing effect on the mind, and is an all-natural anti-inflammatory agent.
Ylang-Ylang Essential Oil - as an all-natural mood booster that reduces stress and anxiety.
Patchouli Essential Oil - has a grounding and balancing effect on the emotions and banishes lethargy, while sharpening the mind.

Size
7ml
An Important Note: Ingredients may change. For the most current ingredient list, please check your packaging. Any slight variation in the aspect of the product is due to the natural raw materials in the formula and does not affect the quality.
This Disclaimer has been translated into Chinese. If there is any inconsistency or ambiguity between the English version and the Chinese version, the English version shall prevail